1972 Chevrolet C-10
1972 Chevrolet C10 short bed fleetside, "SCC10". There's been loads of custom fabrication on every inch of the truck. The hood is one of the most striking features. The hood had a cutout with a smoked clear, aircraft windshield acrylic hood scoop. This allows the beautiful Hilborn Injection velocity stacks to be seen with the hood down. The engine is a ATK High Performance Engines 383 Chevrolet smallblock with 600HP. There's a Tremec 6-speed manual transmission and a narrowed 12Bolt Chevrolet Differential. The differential has been plumbed and has a differential cooler pump and single-pass radiator for the track and to keep the differential oil cool. We should mention that the SCC10 Chevy truck also won "Outstanding Engine" for trucks at The Grand National Roadster Show just after SEMA 2019. This truck also finished in SEMA's 2019 Battle of the Builders and was a considerable part of The Battle of the Builders TV show special!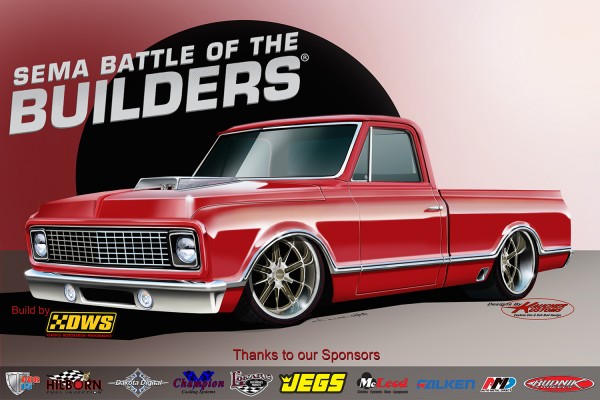 Custom fabrication details include:

-Custom fabricated rear aluminum wing and components. The wing is adjustable, and is highly polished
-Custom inner fenderwells and radiator cover, with custom hoodpins with quick release buttons to lock and unlock them
-TCI custom suspension components and crossmembers
-The dash has been modified to house 69' Camaro gauges. The gauges are custom by Dakota Digital
-There is a single-pass CBR radiator, custom made o DWSClassics specs. the polished aluminum housing for this radiator was made in-house. The backside of this radiator has 3 small Spaal fans as well.
-The bed side exhaust cutouts were designed in-house, with the design being sent out to 3D Forecast in Oceanside, CA to be aluminum 3D manufactured. The components were hand sanded and chromed.
-Wheels are by Budnik, and tires are Falken Azenis 510's
-The custom exhaust is all FlowMaster and has removeable segments and was polished and ceramic coated by Gus at Engineered Applications. It sounds raspy and mean with the supper 44 Flowmaster mufflers as well.
-The tailgate is smoothed out and has " C H E V R O L E T' letters that are small, tasteful and perfect for the rear of the vehicle to clean things up.
-Hilborn Injection supplied the EFI unit. DWSClassics made the velocity stacks that are angled forward, and looks fast even when not running. The velocity stack top plate and venturis were designed on CAD and was manufactured by Talso Manufacturing in Garden Grove, CA
-Disc brakes are 6piston Wilwoods to stop on a dime if needed.
-The color is beautiful and is Alfa Romeo red from their 1965 race cars. It is truly the best red on the planet.