1964 Chevy C10 Shortbed Fleetside
1964 Chevrolet C10 Shortbed, named 'XBT01' DWSClassics has a personalized build-tag that is installed on every one of their custom builds. The XBT01 assigned to this truck stands for (X) X-Mas, (B) Bonus, (T) Truck #01. There are various reasons behind the vehicle assigned build numbers. This truck was a X-Mas Christmas bonus truck for our shop foreman, Gino Capps. This truck started out as a shop truck and parts runner. We figured we'd give the old workhorse a major facelift and hand it over to Gino as a 'Thank you' for all of his hard work!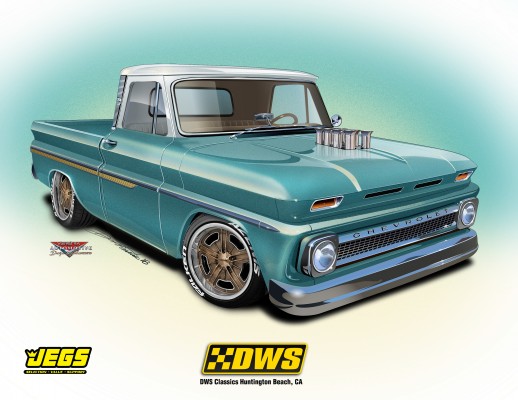 This former patina shop truck received a lot of new sheet metal from Classic Industries and Truck Shop of Orange. The color is a custom color mixed by DWSClassics, and is named after Gino, as the boys nicknamed him 'Bitch-eyes'...The paint color is 'Bitch-Eyes Blue'. The first coat of clear has House of Kolor's gold pearl flake, and then several coats of clear were shot over that. From any angle, the pearl looks phenomenal! Every painted surface has a gold pearl in the clear; this includes the exterior, interior, underside, all suspension parts, as well as the bedwood's final finish.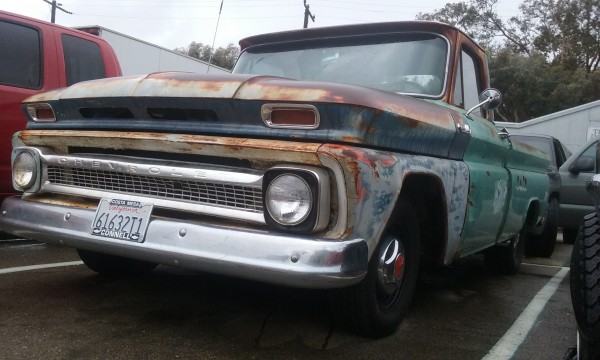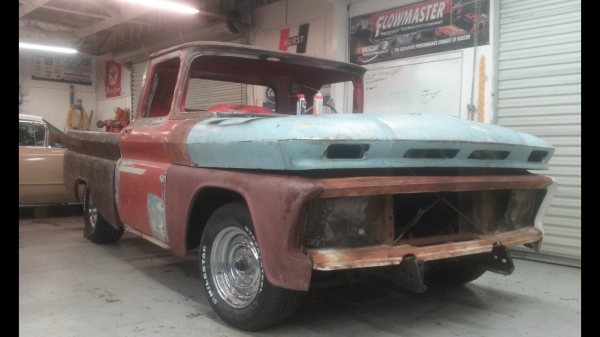 Like DWSClassics' other SEMA builds, their trademark Hilborn Injection through the hood is present again. This always makes a DWSClassics build a 'Show Stopper'! The ATK High-Performance Engine is an aluminum head Chevrolet small block 383CI with 500 HP. There's an automatic transmission with a 2800 stall converter and 3:73 limited-slip Differential with Auburn Gear limited-slip, Dutchman Axles, and assembled by J&S Gear in Huntington Beach, CA. All plumbing for the engine, fuel, brakes, cooling, and transmission cooler are all stainless steel for a clean and long-lasting show car finish.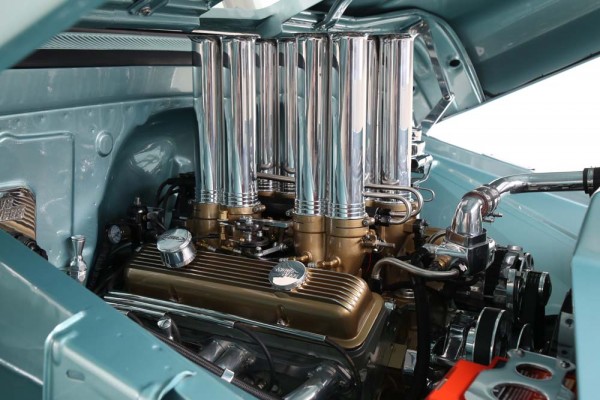 Steering and suspension are all CPP, with a 5'/7' drop with CPP 4 wheel disc brakes and CPP Hydrostop unit. Rear trailing arms are stock, reinforced, and the drilled speed-holes. The speed-holes all have custom machined brass bezels that were polished prior to being installed. The front and rear bumper brackets have had the same touches as the trailing arms. This was done to wow anyone who might take a look at the impeccable underside of this C10.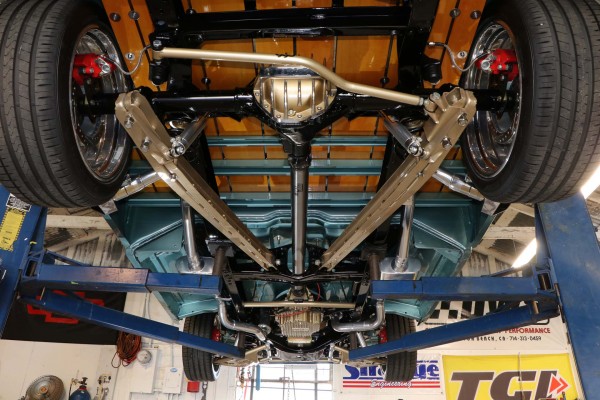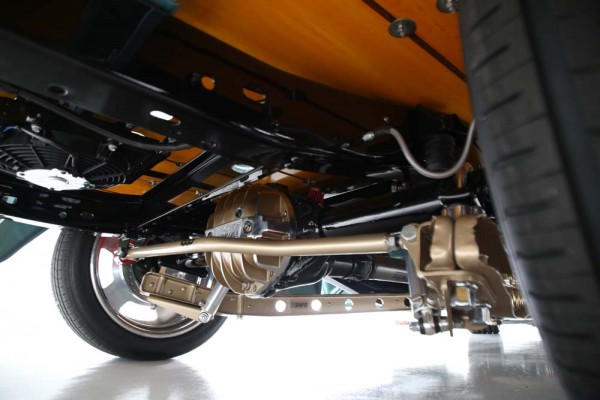 Interior was by Bill Dunn Upholstery in Huntington Beach. DWSClassics wanted an Impala-Esque upholstery that looks as if GM did it back in 1964. The center console features velocity stack 'bells'(tops) that are highly polished and have polished brass inserts as well. The interior roof has polished aluminum strips that are reminiscent of a Nomad headliner. Custom machined(in-house) brass dash knobs, handles, and pedal pads were added for an elegant interior. The interior rearview mirror is a 59' Corvette that was relocated to the top of the dash. DWSClassics has a line of custom carpets, and this particular color is DWSClassics Malibu Sparkle. With gold pearl sparkling at every angle, the carpet had to sparkle as well, and has silver Lurex woven into the hand-tufted carpet, which is 100% wool!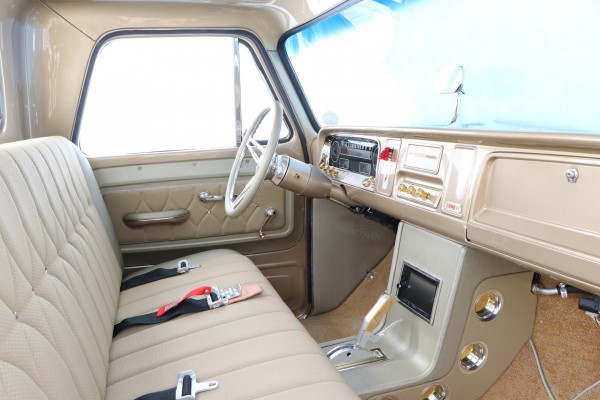 Under the hood, DWSClassics created a one-off radiator/core support cover from carbon fiber. The velocity stack 'bells' are incorporated into the design to continue the velocity stack theme from front to back. Bulkheads and miscellaneous underhood parts parts were machined from 6061 aluminum and finely polished. DWSClassics even made their own rectangular fender washers(again, polished aluminum).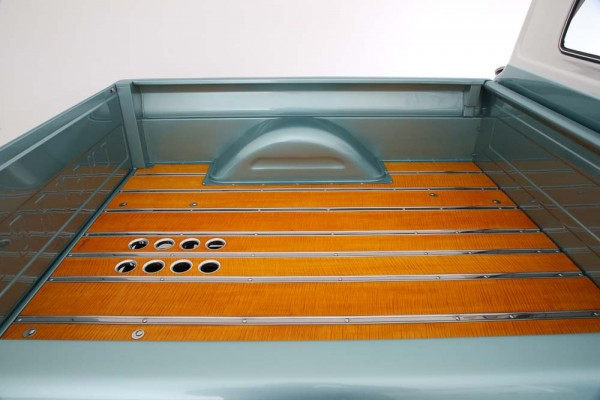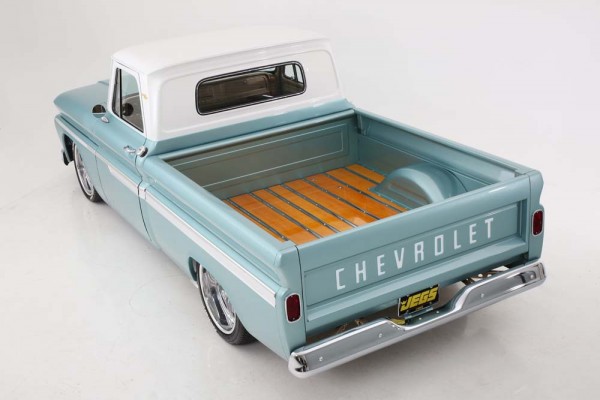 The bed is essential to creating a show-winning truck. In this case, curly maple was used, to make a elegant and rarely used solution. Curly maple is expensive and rare but fits the overall look of the build. Velocity stack 'bells', again, were used in an 8-stack configuration in the rear of the bed. Under the velocity stack 'bells, is a B&M transmission cooler with a 'pull' fan to make for an attractive, unique, and functional look in the bed. DWSClassics wanted something nobody had done with a truck bed, and it was pulled off masterfully!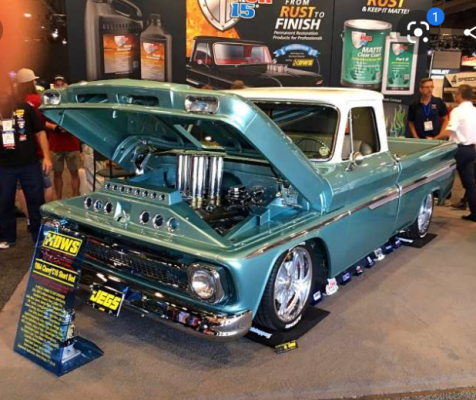 This truck has been featured in Truckin Magazine, Jegs Catalog, and Falken Tires calendar...We look forward to seeing how she does in SEMA's Battle of the Builders 2020!